POWTECH Newsroom
IPB 2019 Is Soon to Kick off in Shanghai!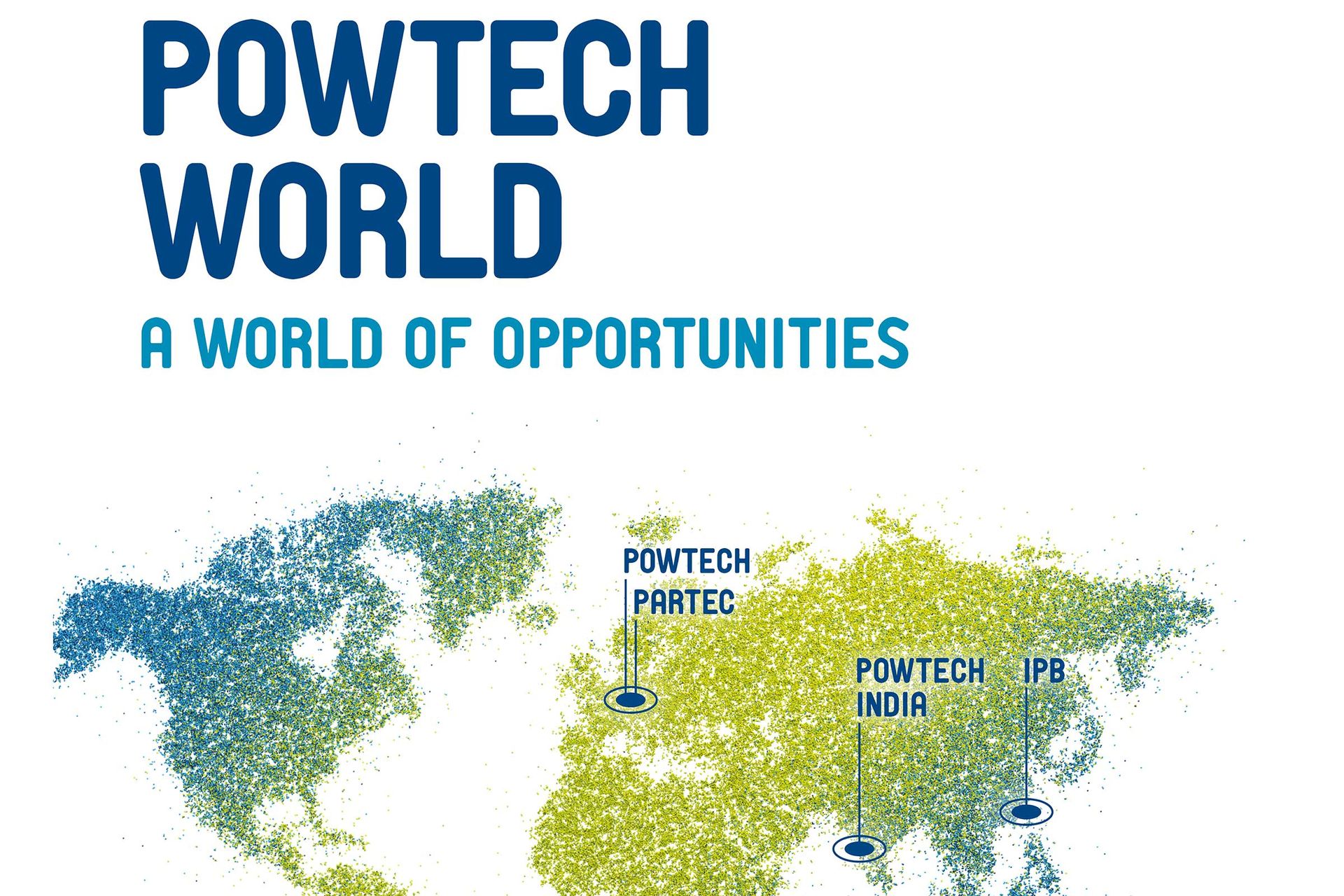 This year marks the 70th anniversary of the founding of the People's Republic of China as well as the rise and development of China's powder industry. New powder materials, new technologies and new equipment developed locally and internationally are attracting the attention of various sectors. The 17th International Powder & Bulk Solids Processing Conference & Exhibition (hereinafter referred to as "IPB") organized by Chinese Society of Particuology and NürnbergMesse China Co., Ltd., will be held at Shanghai World Expo Exhibition & Convention Center (850 Bocheng Road, Pudong New Area) from October 16 to 18, 2019. Its concurrent three major conventions, including International Powder & Bulk Solids 3New Summit, IND EX® Safety Symposium 2019, and 2019 Shanghai International Pharmaceutical Innovation Technology Symposium (IPIT 2019) will focus on new developments of the power industry to discuss new technologies and boost intelligent, eco-friendly and safe development of the industry.
In the past 17 years, IPB has grown and expanded with enthusiastic attention and strong support from both within and without the industry. Now, it has become a large "one-stop" exhibition in the field of powder and bulk solids in China. IPB is also one of NürnbergMesse's most important powder exhibitions worldwide. With the full support of POWTECH, the world's leading powder exhibition, it is always committed to creating an integrated platform spanning the full industrial chain ranging from material processing and modification to conveying and packaging in the Chinese powder industry. As a witness to the growth of the industry over the past 20 years, IPB is dedicated to establishing platforms for exchange and cooperation between Chinese and overseas powder industries, and between businesses and associations, and providing extensive information and opportunities for organizations to expand new business and develop new markets. Through the exhibition, exhibitors and visitors are able to gain a further understanding of market trends, acquire information about new products and complete sourcing. The exciting highlights of IPB 2019 is sure to bring its exhibitors and trade visitors unique experiences.
200 exhibitors will showcase thousands of high-tech equipment at IPB
According to current data, the number of exhibitors at IPB 2019 is up by 30% when compared with last year, of which about 40% are international ones, indicating a significant increase in its internationality. There are companies from 13 countries and regions, including Austria, Denmark, Germany, Italy, Japan, Singapore, Switzerland, the United Kingdom, the United States, New Zealand, France, the Czech Republic, and Taiwan of China, representing various fields such as crushing, grinding, sieving, drying, mixing, filtering, conveying, packaging, testing, and safety and explosion protection. Representatives of powder companies include KAWATA, Suzhou XiRan, Navector, NETZSCH, Wuxi Taixian, BDI, Yixing Jingxin, Neuman & Esser, Fengli, Miyou, SAI-SHAN, Runnest, Rijia-Qingxin, KESO, Guangdong Honggong, HANRUIPUZER, WAM, LINGOOD, REDC, KRD, Tianma Powder, AViTEQ, Hefei Xulong, Wezer, REMBE, BS&B, Hoerbiger, STIF, Malvern Panalytical, Linkoptik, DKSH, Omec, Bettersize, SYMPATEC GmbH, Freeman, Jinan Winner Particle and Verder. IPB 2019 will cover an exhibition area of 9,500 square meters. In the meanwhile, ACE & CIFE & AGROTECH SHANGHAI, organized by China Crop Protection Industry Association, will be co-located concurrently with IPB. It's believed that the interactions between the two events will help to create more business opportunities that are worth expectations.     
Hot Topics of Three Concurrent Conventions:
New Materials and Equipment, Explosion-proof Powder and Pharmaceutical Granule Preparations
International Powder & Bulk Solids 3New Summit, co-organized by www.51ore.com and NürnbergMesse China Co., Ltd., will be held from October 16 to 17, 2019. Based on the platform of IPB 2019, it will attract 200 well-known local and international powder companies and nearly 10,000 powder purchasers and trade visitors to review the development of the Chinese powder industry over the past 70 years, showcase the latest materials, technologies and equipment developed locally and internationally as well as future trends, broaden Chinese powder companies' horizons by enabling them to learn from advanced international concepts and technologies, and  boost the development of power technologies with high added value. What's more, it will drive in-depth integration of international powder businesses with the Chinese market, facilitate exchange and sales between Chinese and overseas companies, and fuel the high-quality development of the powder industry in China.
Besides, IND EX® International Association of Experts for Industrial Explosion Protection and NürnbergMesse China Co., Ltd. will jointly organize IND EX® Safety Symposium 2019. China's economy is developing at a rapid speed. Fortunately, during the period of continuous growth, local governments are also working hard to improve local safety standards. In 2019, three major mandatory GB specifications will be released. On October 16, IND EX® International Association of Experts for Industrial Explosion Protection will invite key contributors and authors of the new domestic explosion protection standards to give IND EX® members, end users interested, original equipment manufacturers and engineering companies detailed explanations of those standards so as to imprint them on the minds of Chinese and international visitors. This year's IND EX® symposium will only focus on the latest news. In addition to explaining and discussing new Chinese safety regulations concerning powder explosion, IND EX® members will also showcase their latest product solutions and protection methods as well as the state-of-the-art safety software.
What's more, 2019 Shanghai International Pharmaceutical Innovation Technology Symposium (IPIT 2019), organized by kelionline.com in conjunction with NürnbergMesse China Co., Ltd., will be held on October 16 at the venue of IPB 2019. Currently, global drug research and development has entered a new phase of preparation innovation. With the rapid development of modern technology and the interaction among multiple disciplines, new technologies, materials and equipment for drug preparations have been emerging, and a technological system featuring sustained/controlled release preparations, targeted drug release, emulsification, microcapsules, aerosols/inhalants, liposomes and other drug delivery systems has come into shape. In recent years, China has made significant strides in the field of preparation research, and is closing its gap with developed western countries. However, problems such as the shortage of core technology innovations, absence of intellectual property rights, and backward quality standards still seriously handicap the development of China's preparation industry. In such a context, the symposium will invite domestic and international experts to discuss and analyze technological innovations and applications in the field of drug preparations in the new era and encourage extensive exchanges of views on new preparation theories, technologies and products to bring the development of preparations in China to a new height.
Characteristic Powder Material Wall displays the beauty of diversified powder materials
IPB 2019 will feature the Characteristic Powder Material Wall to showcase a wide variety of powder samples, including "nano materials, pharmaceutical materials, food materials, composite materials, functional materials and additives", to present different forms and shapes of powders, thus educating visitors while enabling positive dialogues and interactions between raw materials and powder equipment to eventually influence the decisions of powder purchasers.
IPB History Review Wall welcomes attendees to join hands for a better decade in the future
Another highlight will be the IPB History Review Wall, outlining important milestones of IPB from 2008 to 2018 and displaying old photos capturing the 10-year period. From the perspective of the exhibition, it will not only show continuous advancements made by power companies exhibiting at IPB over the past 10 years but also demonstrate the vigorous dynamics of the Chinese powder market to inspire expectations for an even better decade ahead.
The exhibition halls of IPB 2020 will take on a new look to invite opportunities of the summer
IPB 2020 will be held at Hall 2 of Shanghai World Expo Exhibition & Convention Center from July 29 to 31, 2020. Hall 2 not only boasts better facilities but also enjoys an excellent geographical location in Shanghai. In the midsummer of 2020, IPB will be held in concurrence with PU China 2019 (www.puchina.eu).
IPB is aimed to explore overseas markets and capture opportunities worldwide
IPB is one of the key players of POWTECH World events in the area of powder, which comprises POWTECH Germany in Nuremberg, POWTECH INDIA in India and IPB in Shanghai. Companies can expand their presence into overseas markets by participating in any exhibition under the Alliance and enjoy highly professional exhibition services with guaranteed quality.
POWTECH World Events:
POWTECH INDIA (Mumbai, India), 9–11 September 2020
IPB (Shanghai, China), October 16 – 18, 2019
POWTECH (Nuremberg, Germany), September 29 – October 1, 2020
PARTEC (Nuremberg, Germany), September 29 – October 1, 2020