POWTECH Newsroom
POWTECH 2016: Dynamic start to the world's leading exhibition for mechanical processing technology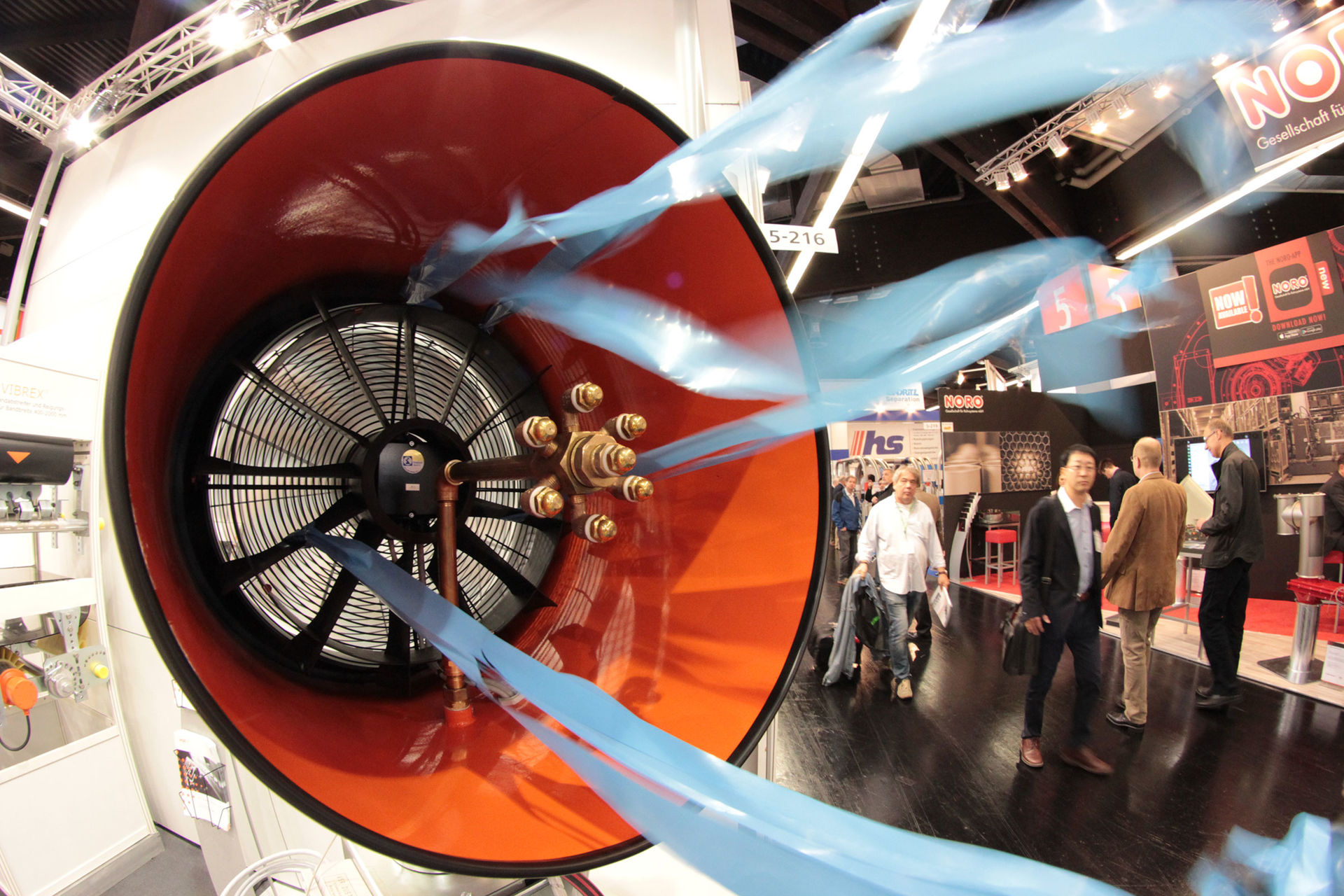 POWTECH 2016 welcomes powder, bulk solids and manufacturing experts from all over the world to Nuremberg again from 19 to 21 April. The leading exhibition for mechanical processing technology, analysis and handling of powder and bulk solids is opening its doors with a slight growth in area in 2016, confirming its position as an essential marketplace and global knowledge platform. Some 891 exhibitors from 31 countries will showcase machinery and systems that are vital when manufacturing almost all consumer goods, including mills, mixers and transport and storage technology. About 16,000 trade visitors are expected to attend the three-day event. The new Generation Future special area will connect talent with universities and industry.
POWTECH is all about dynamic processes from size-reduction and grinding to filtration and separating and mixing, agglomeration and moulding. A comprehensive technical programme made up of presentations and congresses will accompany the wide variety of products and solutions offered by exhibitors. "We are looking forward to having the unique POWTECH atmosphere in our exhibition halls again in 2016," confirms Beate Fischer, Director Exhibition for POWTECH at NürnbergMesse. "This is the only place where process experts experience thousands of machines and products in real life and often in a real working environment in one location. That makes it very lively and dynamic in the halls. We are very pleased with the level of exhibitor participation in 2016, which bodes well that no processing technology wish will be left unfulfilled at POWTECH."
Experience the evolution of technology live
The POWTECH exhibitor catalogue currently lists more than 180 product debuts, bearing witness to the innovative strength of the engineering and bulk solids industry. The leading areas of innovation include safety and hygiene, more energy-efficient and resource-efficient manufacturing as well as measuring and automation. The hot topics in the pharmaceutical industry are continuous production, serialisation and innovative manufacturing processes like 3D printing.
Generation Future: The talents and ideas of tomorrow
Universities, institutes and institutions will present themselves in their own separate area for the first time at POWTECH 2016. Fifteen institutions will provide information about networking opportunities between academia and industry under the motto Generation Future. At the same time, the special area is the perfect place for connections to be forged between young talent and companies in a casual setting. A constantly updated job board will also help. The DSIV (the German Powder and Bulk Association) invites visitors to network in a relaxed, student atmosphere every day from 16:00.
Expert knowledge for facing your own challenges
A comprehensive programme made up of presentations, demonstrations and congresses makes POWTECH a central knowledge platform for the industry. The bulk solids and process community will meet to share knowledge in three forums: The Technology Forum will host presentations related to handling bulk solids, the Expert Forum will address process automation, particle measuring technology and analysis and the Pharma.Manufacturing.Excellence Forum will focus on pharmaceutical manufacturing issues. The second day of the event will concentrate on explosion protection with the IND EX Safety Congress as well as a guided tour on this issue. Moderated live explosions in the outdoor area of the exhibition will be held on every day of the exhibition.
Process technology for all industries
The TechnoPharm exhibition, which used to be held alongside POWTECH, has been fully integrated into POWTECH for the first time in 2016. Rather than holding a smaller separate pharmaceutical exhibition, the organizer NürnbergMesse and honorary sponsors APV and VDI will now organise an exhibition for all application areas for mechanical processing technology with POWTECH. POWTECH now covers all areas that use mechanical processes in manufacturing, including the food and feed industry, as well as the chemicals, pharmaceutical, cosmetics, ceramics/glass, construction/stone/ earth and recycling sectors.
The latest developments in particle technology
The Nuremberg Exhibition Centre will also welcome PARTEC, the international congress for particle technology. PARTEC brings together leading particle engineers and scientists to share knowledge about the latest developments in particle formation, agglomeration and coating processes as well as measuring techniques and various industrial applications for particles.
POWTECH World
POWTECH World is a global network of exhibitions and conferences related to mechanical processing technology. POWTECH World events are the ideal platform for global knowledge sharing and new worldwide business relationships. Besides the world's leading exhibition POWTECH in Nuremberg, the following POWTECH World Events will take place in 2016:
POWTECH Brasil

Conference and Exhibition for Processing, Analysis, and Handling of Powder and Bulk Solids, 10 to 12 May, Sao Paulo

POWDER & BULK SOLIDS INDIA

International Conference & Exhibition on Storing, Handling and Processing Bulk Solids and Powder, 13 to 15 October, Mumbai

IPB China

International Powder & Bulk Solids Processing Conference & Exhibition, 19 to 21 October, Shanghai